Award Winning Forest Green Park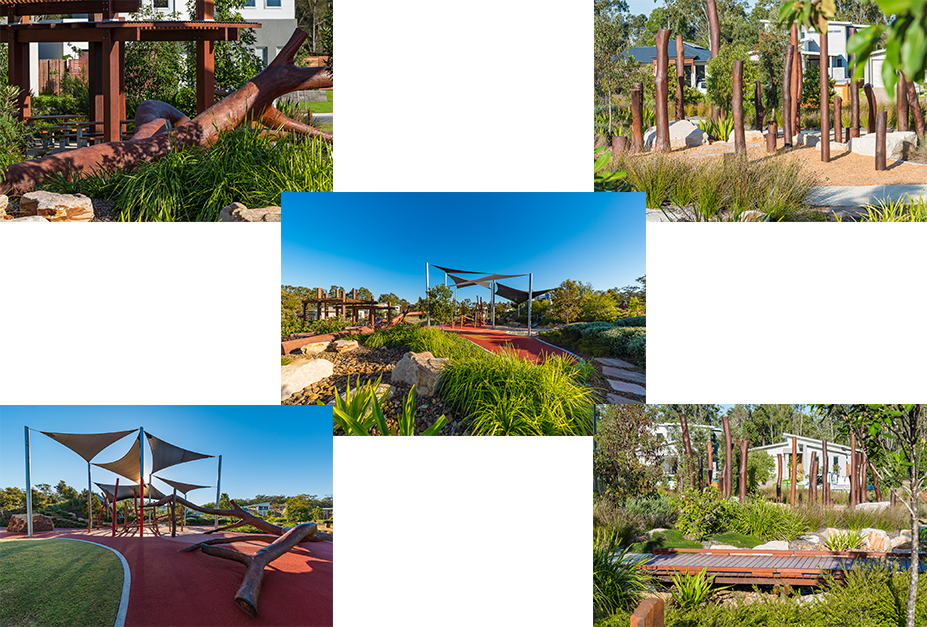 Our very own Forest Green Park received an Award of Excellence – Play Spaces at the recent 2019 Queensland Landscape Architecture Awards.
Our landscape architect, Form Landscape Architects recently entered Forest Green Park in the awards and it's no surprise they were successful as the Gainsborough Greens Community has been enjoying this beautifully designed park for a few years now.
Here is an extract of an article 'Projects are environmental winners' published in the Courier Mail on 21 June 2019.
Australian Institute of Landscape Architects (AILA) Queensland president David Uhlmann said this year's awards celebrated the state's forward thinking, innovative and diverse approaches.
Forest Green in Pimpama's Gainsborough Greens community received an Award of Excellence for natural enhancement of local residential communities.
"…Forest Green Park also demonstrates a case of seamlessly nature-based play, setting a new standard for suburban residential community parks.
"Developers and consultants have worked together to create sensual, community focused spaces that embrace surrounding nature and wildlife." Mr Uhlmann said.1
The AILA award citation describes Forest Green Park as an exemplar project for nature-based play and demonstrates a new response to suburban residential community parks in Queensland. The designers recognised early in the process the importance of maintaining the natural values of the site and its context. Meticulous detail was applied to the identification, mapping and reuse of site timber.
The clever composition of bespoke structures along with natural materials has resulted in a unique play space that provides children with opportunities to tackle a range of challenges, beautifully integrated with the surrounding bushland context, providing children one sense of place and identity.2
The Forest Green Park is one of 5 major parks in Gainsborough Green, with our new 5 hectare Bim'bimba park set to open in late 2019.
_______________________________________________________________________
1. Source: 'Projects are environmental winners' Courier mail 21 June 2019
2: Source Queensland Landscape Architecture Awards website at at 2 July 2019