Choose an Option that Suits Your Lifestyle Needs
Gainsborough Greens offers a variety of options for you to buy or build your dream home. Catering for all lifestyles and budgets, your choices are endless.
---
Buy a Completed Home
If building isn't for you and you are ready to move in now then take a look at the range of completed homes available. Mirvac along with a range of boutique builders have built a series of homes with superb finished and fixtures and a range of sizes to suit all lifestyles.

---
Build Your Dream Home
Gainsborough Greens also offers a range on convenient turn-key house and land packages. This option is perfect for those who are wanting to create their dream home. We work with a number of builders who offer a range of housing plans and understand the covenant guidelines, so all the leg work has been done.

---
Buy Land
Within Gainsborough Greens we have land in body corporate and non-body corporate precincts now selling to suit all lifestyles and budgets. We offer a variety of living options including premium golf front living; park front living; low maintenance homesites and more.
What's the next Step? Download our step-by-step buyers guide >

---
First Home Buyers
First Home Buyers save when you buy at Gainsborough Greens.
Take advantage of the $15,000 Queensland Government's First Home Owners' Grant at Gainsborough Greens. Not only will eligible first home buyers receive the grant, they will also receive existing stamp duty concessions so now has never been a better time to build your new home.
In order to be eligible for the grant you must meet the following criteria: You must be an Australian citizen or permanent resident (or applying with someone who is). You or your spouse must not have previously owned property in Australia. You must be at least 18 years of age. You must be buying or building a brand new home, valued under $750 000.
Find out more about the QLD First Home Owners Grant >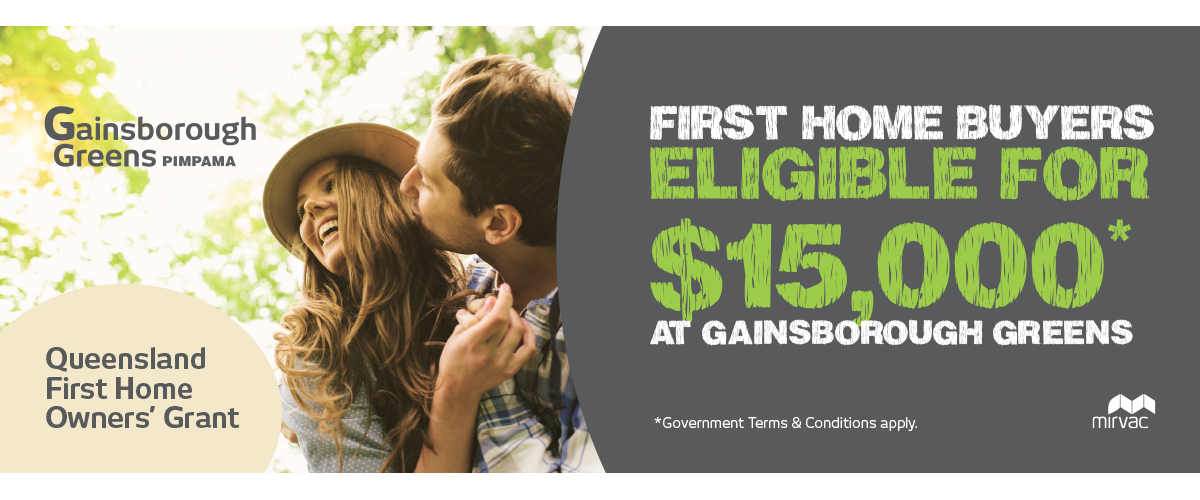 ---